Walking Teddy Bear Dog & Cat Costume
free 1-3 day shipping over $49

we donate to rescues
Frequently Bought Together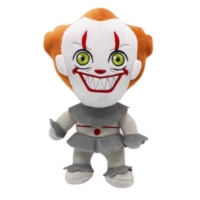 This Pet Costume Includes: One Piece Costume
Your favorite teddy bear just came to life with the Walking Teddy Bear Dog Costume! The one-piece costume has easy step-in front legs, poly-filled plush arms as well as hoodie that comfortably fits atop your pup's head. The gingham-lined ears will give your furry friend that adorable and classic teddy bear look while the plush arms give the appearance that your dog is walking upright! And this lovable costume isn't only for Halloween!  Your pooch will surely stand out at any gathering, neighborhood walk, or parade. You can even just enjoy your furry friend right at home with lots of bear hugs and cuddles! 
Care Instructions: Hand Wash Spot Clean. Lay Dry. For Accessories Spot Clean Only.

| | |
| --- | --- |
| Weight | N/A |
| Dimensions | 8 × 8 × 2 in |
| Size | XS, S, M, L, XL, XXL, XXXL |
RUNS EXTREMELY SMALL/ NON HUMAN CUSTOMER SERVICE
I wish I could leave a better review, but here is what I experienced when ordering through this company, Pet Costume Center.
I purchased a Large size costume for my daughter's 35 pound Golden Doodle. Nope, apparently he fits into an XXL (which I ultimately ordered from another company, at half the cost). I know most of you dog owners would agree that a 35 pound dog should be considered a medium, right? Anyhow, I digress- The fact is the sizing is completely off, so be aware of this and order many sizes up.
The other issue, which is the major reason for the terrible review, is what happened when I tried to exchange or return the item. Firstly, you will be put through a tireless loop of "bots"- Very non- human (and not even furry or cute!) replies that ultimately told me to contact them at [email protected], which I did. Crickets. Not one reply. There is no phone number for customer service, either. So you are just left there, with a way too small item, and no recourse.
Finally, on a lark, I decided to see if there was another avenue other than their company website, that I could try. I found them on FaceBook where Oreo the robo bot looped me back to the email address, which I had already (unsuccessfully) tried. Ugh!
Then, the next day, there was a message on FB in the window I had left open and there was an actual human response (I know this because this person actually wrote "I am a human"!!), and they then sent me a link with a return address label. PHEW! So, I printed the label, and returned the tiny costume. No reply. Finally, an email alerting me that they received the item. Great! Then many many days went by, I kept checking my credit card to see if the refund occurred (nope), and ultimately I was forced to file a dispute with my credit card company to process the refund. I finally got my refund this morning, and I believe it was because I filed the dispute.
This took up a lot of my time, including the writing this very long review.
I hope this helps the company to re-think the way it treats its customers, and that it helps you to find a company you wish to support.
Only okay quality
We bought two teddy bear dog costumes and one had seams that had come undone. Not great quality but looks cute if your dog will keep it on!
Teddy Bear Walking Pet Costume
I bought this for my BIG German Shepherd Dog called Ruby-Rose. She is a long coated Shepherd so looks like a big cuddly teddy bear anyway. But this teddy bear costume was a 3x large size and it just fitted her. I wish they made costumes bigger as my female German Shepherd and our other male Shepherd would have fit better in a 4x large costume... if you had one. But I was very impressed with the costume it was so well made. Beautiful quality of material and stitching I was extremely impressed with the quick response and correspondence from a staff member there called Christina. Delivery was very fast to us considering we live in Australia it was delivered in exactly one week. So fast, efficient and professionally. We will definitely buy from you guys again. Just wish you'd get bigger sizes 4x and 5x large costumes speaking from an owner of 2 big dogs. I'm sure others from the big dog community would agree with me. You guys would rake the money in as their are NO BIG DOG COSTUMES ONLINE WORLD WIDE. Believe me I've checked. Thanks again for such a beautiful teddy bear costume. Love Debbie xoxo.