It's fun to dress your small or large dog up no matter what time of year it is, whether it's Halloween, a special occasion, or just Tuesday. But just because you like it, doesn't mean your dog will like it. And even if they do, how can you make sure you're getting the right size for them? Despite all the numbers and precision involved, measuring your dog can actually be quite simple. All you need is a measuring tape and you're good to go! Accurate measurements are essential for buying a dog costume or outfit in order to ensure your dog is comfortable and safe while wearing it.

Keep reading to learn how to accurately and easily measure your dog, some measuring tips and tricks, methods to introduce your dog to his or her new costume for the first time, and more.
How to Measure Your Dog
You wouldn't buy a random pair of jeans from the store without checking the size, right? The same applies for pet outfits. To ensure your dog is comfortable and that wearing a costume is a positive experience, you should measure your dog to get the best fit. Follow the steps below to learn accurate measurements for your furry friend: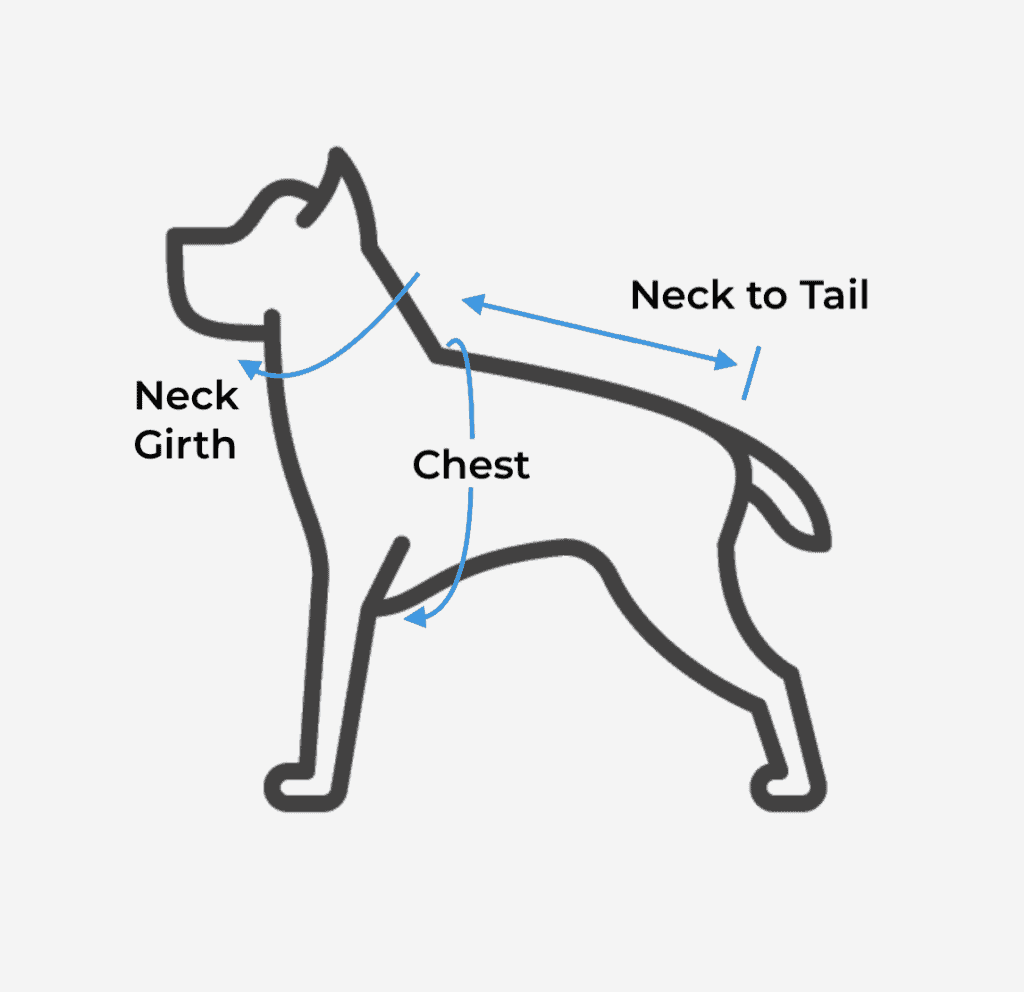 Grab a measuring tape (this is important!) and something to record the measurements, such as a pencil and paper or even your phone!
Remove your dog's collar and any other accessories or outfits they may be wearing; this ensures your measurements will be accurate.
Measure your dog's neck first by bringing the measuring tape around the middle of their neck and checking for a snug fit.
Measure your dog's chest by bringing the measuring tape around the broadest part of their chest; add two inches for breathing room and comfort.
Measure your dog's back by bringing the measuring tape from the base of their neck to the base of their tail; add two inches for comfort.
For a step-by-step walkthrough, you can watch videos like these that are located on many of the costume pages. They'll take you through how to measure your dog with the help of animated examples.

We've covered basic measurements in the steps above and the video examples provided, but remember that, depending on the costume, you may need to measure some other body parts, such as the length and/or girth of your dog's front or back legs, their neck (base to top of head), and even the head itself.

Luckily, if you're doing matching cat and dog costumes, these same measurement tips are also useful for any feline companions.
Measuring Tips to Remember and Consider
We've covered the basic steps of how to measure your dog above, but there are also some tips
you should remember and consider during this process. These include:
When measuring your dog's back, bring the measuring tape to the base of your dog's tail, not the tip of the tail.
Bulkier breeds may need an extra size, while slim breeds may benefit from a smaller size than measurements may indicate.
Different brands may have different sizing, so make sure to check your dog's measurements against those of the costume.
If your dog's measurements fit in between sizes, it's always better to order the larger size rather than the smaller one.
Give your dog positive reinforcement during the measurement process to ensure hassle-free repeats in the future.
Consider the measurements for all elements of the intended outfit and if you also need to measure for armholes, hoods, sleeve length, etc.
Don't own a measuring tape? Check to see if the website offers a printable version for your convenience.
While some of these tips may be more important than others, they're all useful in that they ensure the measuring process is as stress-free as possible for both you and your best friend.
Typical Size Charts and Sizing Help
Most costumes have sizing guides available to guide your purchase and ensure the perfect fit. These guides generally include measurements for the neck girth, chest, and neck to tail, and run from XS all the way to XXXL costume sizes. A typical sizing chart usually looks something like this:
| | | | |
| --- | --- | --- | --- |
| (In.) | Neck Girth | Chest | Neck to Tail |
| XS | 10 | 15 | 7 |
| S | 12 | 17 | 11 |
| M | 15 | 20 | 15 |
| L | 18 | 23 | 22 |
| XL | 20 | 27 | 28 |
| XXL | 22 | 35 | 36 |
| XXXL | 24 | 38 | 38 |

Tips to Train Your Dog to Wear a Costume
Some size charts, such as this fun Hulk costume, also include sleeve length measurements and breed suggestions for extra convenience. If you don't have access to measurement materials, don't worry about a thing. We recommend a small for Pomeranians and puppies, and a medium for pugs, beagles, cocker spaniels, and basset hounds. Though all of these dogs are generally considered small, you can see that each actually need different sizes. The best companies even offer automatic calculations for you, in case sizing charts are not readily available.
This Hulk costume is sold by the Pet Costume Center, which includes a 'Calculate My Size' option for your dog. Input your dog's measurements in inches or centimeters to see their size recommendation. This will show how tightly or loosely the costume will fit the parts of your dog's body.
Some dogs may be adventurous and immediately willing to don a tux for an upcoming wedding. Alternatively an adorable elf-themed dress for Christmas could be viable. However many dogs may be unsure about these new outfits. They can be understandably hesitant and even reluctant to try them on. To help soothe their anxiety and acclimate them to wearing costumes, we've listed some training tips below.

Use Positive Reinforcement – Treats, praise, and positive contact are the three most important methods of positive reinforcement to use. Give your dog plenty of positive reinforcement when you first introduce them to the costume, when they touch the costume, and finally when they're wearing the costume. Take this process slowly and be patient; it may be a number of days (or weeks) to work up to them actually wearing the costume, but the result will be worth the wait.

Practice, Practice, Practice – We mentioned it once in the point above, but it bears repeating: practice with your dog until they're comfortable around and wearing a costume and/or accessories. Not only do they need to be confident wearing the costume, but it's also to their advantage to get used to moving around in it. This is especially true for outfits that they'll be wearing for a special occasion, such as a ring bearer pillow.

Don't Force or Rush Your Dog – We know it's exciting when a new costume comes in the mail. (Trust us!) but try to curb your enthusiasm. Your dog certainly won't be as happy as you are, especially if it's their first time wearing costumes. Forcing your dog into a Batsuit or sushi outfit won't endear them to the idea of dressing up. In fact, it will probably have the opposite effect. Similarly, rushing your dog will also cause a negative association to form in your dog's mind.
Avoid Tight-Fitting Costumes – For your dog's first time, avoid tight-fitting or overly complicated costumes. Instead, try a loose outfit like this chill luau shirt or a simple costume like this cute dinosaur cape and detachable headpiece. Over time, you can slowly transition to costumes that are more form-fitting or have multiple pieces. However keep in mind, your dog may always be wary of costumes that cover their head or restrict their movement. Using these tips, you're sure to have your dog sporting the latest fashion or dancing as a Disney princess in no time. You can also read more about how to train your dog to wear a costume here.
Signs That Your Dog Doesn't Like Costumes
Even if you get the right size and work with your dog to try and make them comfortable, some dogs simply don't like wearing costumes. You should respect this and either refrain from putting them in outfits or limit these times. Some common signs of anxiety and unhappiness include:
Keeping their head down or cowering
Tilting their ears back or tucking their tail
Repeatedly yawning, licking their lips, or panting
Flattening themselves on the ground
Freezing or refusing to move when the costume is on
Biting, chewing, or licking the costume or themselves
Raising their paws or moving in "slow motion"
If your dog consistently displays these behaviors despite repeated training sessions, it may be time to pack up the outfits.

An alternative to full costumes is more simple accessories, such as capes, wings, or tutus. These clothing items are less obtrusive and may be more acceptable to your dog. Accessories that specifically attach to collars, such as bows or bandanas, rest in a comfort zones for your dog and have the added advantage of coming in color-coordinated or festive patterns.

When is the Right Time to Measure My Dog?
Measuring your dog for a costume can be an uncomfortable experience for dogs that are unused to it, and it may confuse or stress them to have a measuring tape pressed against and wrapped around their body. To make this experience more positive, measure your dog when they're relaxed and provide them with lots of positive reinforcement.

It's vital to have time to dedicate to your dog, if this will be their first time wearing a costume. It may take days or weeks for your dog to become comfortable and confident in their outfit. Having accurate measurements will help with the first of these, but you're the key to the second trait. Reassure your dog and be patient.

Wearing a costume or outfit can be fun for both your dog and you, but only if the processes that precede it are also enjoyable. To ensure your dog loves his or her new outfit as much as you do, follow the steps and tricks we've covered in this article. Then, after your dog is used to the
costume, enjoy it! Kick back, relax, and enjoy the new outfit.
Dogs love Christmas just as much as people do. They get so excited when they see all the decorations, and love to play with all the new toys that Santa leaves for them. They also enjoy all the delicious food that's being cooked up in the kitchen, and can't wait to curl up by the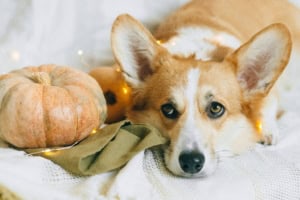 Thanksgiving is a time to come together with family and friends to give thanks for all the good things in our lives. But what about our furry friends? They're a big part of our lives, too! This year, why not celebrate Thanksgiving with your dog? Here are some tips on how to make your dog